Dear Customer, We are closed for today, in accordance with the Parliament Elections-2019. Our operations will restart from tomorrow (24-04-2019).

Kerala's largest online grocery store
Product Details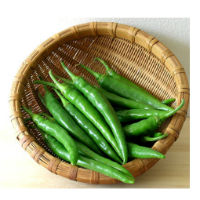 Green Chilly 250g

Brand :
Kada
MRP :

19.75

You Pay :

19.75

Availability :
Limited
This item is Vegetarian
Product Description
Taking spicy dishes with a lot of chillys and fiery capsaicin in the summer months will result in cooling down your body by sweating process. Biting a green chilly will result in the pain you feel and help to dissolve blood clots and aids in digestion. It increases metabolism by burning calories. High amounts of the anti-oxidant beta-carotene,in it supports the cardiovascular system a lot. Helps a lot in the health of eyes and immune system. Also helps a lot in blocking the cholesterol content in body. Vitamin C in it helps in the cure of the skin.
My Basket
»

Net Payable

0.00
»

Product Discount

0.00
»

Total Amount

0.00
»

Delivery Charges

0.00
Shop for Rs.899.00 or more to avail free shipping.
We accept cash and food coupons on delivery.