Kerala's largest online grocery store
Product Details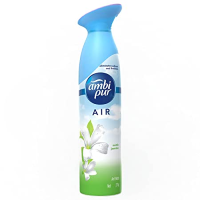 Ambi Pur Air Spray Jasmine 275g

Brand :
Air Wick
MRP :

279.00

You Pay :

279.00

Availability :
Instock
Product Description
o you sometimes feel that your home has an annoying persistent odour? Well, 2 out of 3 Indian women agree, according to an independent third party survey on Indian households, that odours are common in every home, making it clear that Smelly Homes are a prevalent and widespread issue! Considering our love for food, spices, tadka and flavors, it is no surprise that the survey goes on to reveal that Indian women rank smells from cooking garlic and tadka as the no. 1 most common household odour, and smells from cooking fish and other non-vegetarian dishes, as no.2 on that list. The challenge with common household odours is that they are tough to completely remove. The survey further adds that Indian women and men agree that household odours become more prominent during the summer and monsoon seasons. These seasons bring with them a host of smells ranging from sweaty clothes to dirty shoes, damp clothes to smelly socks. An easy way to battle these tough household smells is to use an air freshener, and more than 90% of Indian women agree. Ambi Pur Air Effects is the perfect air freshener for you, since it can transform your home from Smelly to Smiley because it doesnt just cover but truly removes the odours! and guess what? It leaves behind a beautiful subtle fragrance as well!
My Basket
»

Net Payable

0.00
»

Product Discount

0.00
»

Total Amount

0.00
»

Delivery Charges

0.00
Shop for Rs.899.00 or more to avail free shipping.
Free Shipping is not applicable for KADA Express.