Due to the current unprecendented situation, all ODDS are against us in terms of product availability, delivery smoothness,, availability of adequate resources and most importantly the need to take care of our staff safety and yours. There might be slight delays encountered in the delivery. Kindly bear with us.

Kerala's largest online grocery store
Product Details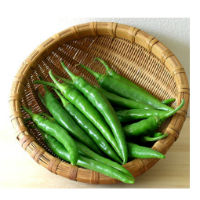 Green Chilly 250g

Brand :
Kada
MRP :

24.00

You Pay :

24.00

Availability :
Limited
This item is Vegetarian
Product Description
Taking spicy dishes with a lot of chillys and fiery capsaicin in the summer months will result in cooling down your body by sweating process. Biting a green chilly will result in the pain you feel and help to dissolve blood clots and aids in digestion. It increases metabolism by burning calories. High amounts of the anti-oxidant beta-carotene,in it supports the cardiovascular system a lot. Helps a lot in the health of eyes and immune system. Also helps a lot in blocking the cholesterol content in body. Vitamin C in it helps in the cure of the skin.
My Basket
»

Net Payable

0.00
»

Product Discount

0.00
»

Total Amount

0.00
»

Delivery Charges

0.00
Shop for Rs.899.00 or more to avail free shipping.
We accept cash and food coupons on delivery.